To get to the essence, one must proceed by subtraction. And so, in 2010, Flores, twin brother of the Colline Novaresi DOC, was born, but without the addition of sulfur. One more step towards a production aimed at enhancing the territory, the grapes, the vintage. It is a wine with an energetic, direct, lively, free-range and rustic character. The nose is colorful, vinous, at times earthy. The drink is flowing, vertical, leaving a feeling of fullness in the mouth.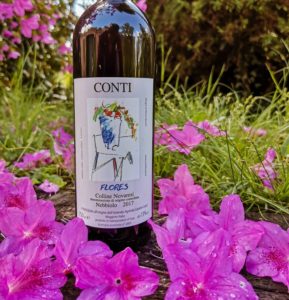 The label is a painting of Maestro Mauro Maulini. It's a tribute to the florality of the first year. But it is also a symbol of the essence of wine, of its being direct and without filters, as in Maulini's design.
Variety of grapes: Nebbiolo Yeasts: indigenous Harvest Harvested between late September and early October. Fermentation and maceration on the skins for about two weeks with one pumping over per day. Bottling takes place the year following the harvest.