Origini is a fruity, mineral and spicy wine. It is compose of different kinds of grapes that grows in the old vineyards managed with "Maggiorina" training. .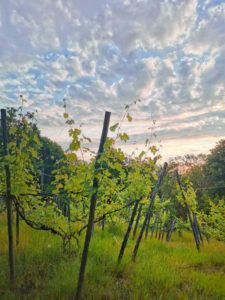 This form of breeding, which has existed for centuries, consists of three/four vines, supported by eight chestnut poles, which develop into four cardinal points. The architect Antonelli (designer of the "Mole Antonelliana") perfected the direction of the supporting poles, obtaining a self-supporting structure much more resistant to grapes loads.
Tradizionalmente in queste vigne venivano piantate differenti uve, soprattutto a bacca nera, di varietà autoctone.
Se la completa lavorazione manuale in tutte le fasi fenologiche del vigneto, dopo gli anni cinquanta ha portato i contadini ad abbandonare questo tipo di allevamento, nel suo recupero si vuole preservare una parte significativa del patrimonio storico viticolo del nostro territorio.
Vinificazione: Raccolta tra la fine settembre e i primi di ottobre. Fermentazione e macerazione sulle bucce per circa due settimane con un rimontaggio al giorno. L'imbottigliamento avviene l'anno successivo alla raccolta.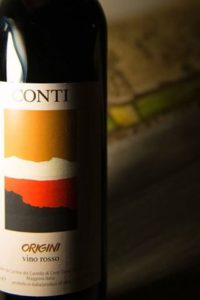 Origini Rosso è acquistabile anche su: La Bottega del Castello